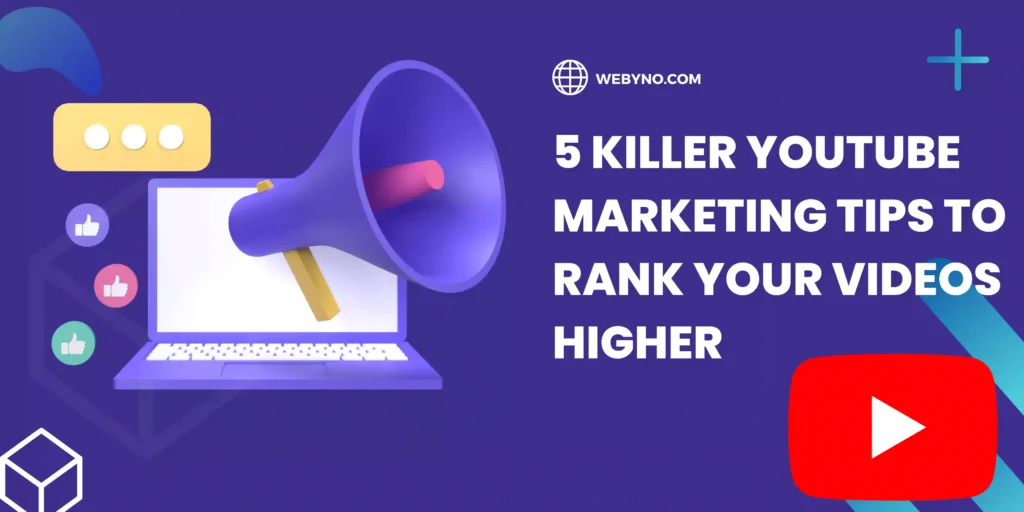 Are you looking for the best YouTube marketing tips for ranking your videos higher? Look no further! This blog post will provide you with 5 killer YouTube marketing tips that can help you increase your visibility and get your videos to the top of the search results.
From optimizing your titles and descriptions to using keyword research and leveraging social media, these youtube marketing tips for ranking videos will help you get the most out of your YouTube marketing efforts. So, without further ado, let's dive into the 5 killer YouTube marketing tips to rank your videos higher!
How to Make YouTube Videos Rank Higher
Let us dive in to the most important tips to rank YouTube videos higher for beginners and advanced marketers. Follow these tips for fast and higher rankings:
1. Optimize your video titles
One of the best ways for ranking your videos higher is to ensure that your titles are optimized. Titles are the first thing that viewers will see when searching for content, so it's important to craft them carefully and to include keywords that will make your videos easier to find. To start, create titles that are descriptive and contain specific keywords that are relevant to the content in the video. Also, be sure to include a call to action in your titles, such as "watch now" or "learn more." Finally, remember to keep titles brief and clear, as longer titles will often be truncated in search results. By taking these steps, you can greatly increase your chances of getting higher rankings for your videos.
2. Optimize your video descriptions
Optimizing your video descriptions is an essential step. Video descriptions are an effective way to give viewers an overview of what they can expect from the video. The description should not only tell them what the video is about but also include keywords that will help your video rank higher in searches. To maximize the impact of your video descriptions, make sure to include relevant keywords that relate to your topic and use them throughout the description. Additionally, using hashtags and other related terms will help make your video more visible to potential viewers.
When writing your video descriptions, be sure to include a call-to-action that encourages viewers to watch more of your content or subscribe to your channel. This will not only help you engage with existing viewers but also attract new viewers. Finally, make sure to keep your descriptions concise and engaging so that viewers don't get bored and click away from your video. Using these YouTube marketing tips for ranking videos will ensure that your videos reach their maximum potential.
3. Use tags
Tags are like keywords that you assign to your video to help make it easier for viewers to find when they search YouTube. When creating tags, think of phrases that people may use when searching for the content of your video. Also, make sure that the tags you're using are relevant to your video's content. It's important to note that the most effective tags are three or four words in length and should include relevant words for your niche.
Make sure to keep the number of tags between 10 and 15. You can also add tags that other channels use for their content so you can leverage their audiences. As long as these tags are relevant to your content, you should be good to go. Finally, make sure to optimize your tags by using variations of the keywords you've chosen. This will help to further diversify your tags so that your videos appear in more searches.
4. Create transcripts of your videos
Transcripts allow viewers to easily access the information that you are presenting in your videos, even if they are unable to watch or hear the video itself. Transcripts also provide search engines with more data to analyze so that they can better identify and rank your video.
Creating a transcript is a simple process. All you have to do is listen to your video and type out the words spoken during it. This can be done manually or with the help of a speech-to-text service. Once you've created your transcript, make sure to include it in the description of your video. This will ensure that viewers can easily find and access it.
In addition to including your transcript in the video description, you should also upload it as a separate file alongside the video. By doing this, search engines will be able to analyze the transcript directly, which can help boost your rankings.
Overall, creating transcripts for your videos is an essential step for any successful YouTube marketing strategy. Not only does it make it easier for viewers to understand and engage with your content, but it also helps search engines identify and rank your videos. So make sure to take advantage of this useful youtube marketing tip for ranking videos!
5. Use annotations
Annotations are a great way to boost engagement and draw attention to your videos. With annotations, you can add text, links, and interactive elements like polls and calls-to-action right onto your videos. This helps direct viewers to watch other videos on your channel or visit your website.
When creating annotations, make sure to use clear text and create a visual hierarchy. Place the most important elements near the beginning of the video as viewers may not stick around for the entire length. Additionally, add annotations to critical sections of your video, such as at the start and end. This will help remind viewers to subscribe or link out to external resources.
Be sure to review the terms and conditions of annotations before you publish them. Make sure to follow YouTube's guidelines and keep the video's focus on content. Annotations can be powerful tools for YouTube marketing, but if used incorrectly can quickly get you in trouble with YouTube's policies.
Using annotations is a great way to engage viewers and draw attention to important parts of your videos. If used correctly, this is one of the best YouTube marketing tips for ranking videos and increasing engagement.
Wrapping Up
By following these simple YouTube marketing tips for ranking videos, you can boost your video's visibility and reach a larger audience. Taking the time to optimize your titles, descriptions, tags, transcripts, and annotations can help you achieve better rankings in YouTube search results. Doing so will give your content the best possible chance to be seen by potential viewers. Start optimizing your videos today and watch as your rankings climb!